The (Almost) Complete Guide To Turbocharging The Naturally Aspirated Second Generation RX-7 - Installing The Turbo
---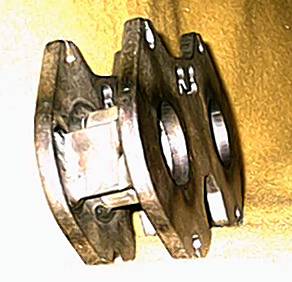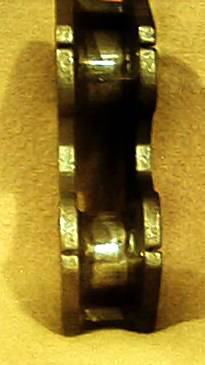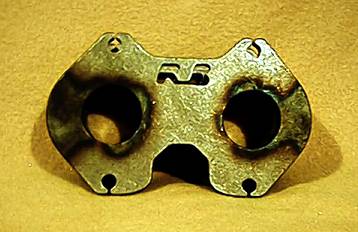 As mentioned, because the NA lower intake sticks out so much, there is not enough clearance to use the stock TII exhaust manifold as is. In order to make things fit, the manifold must be spaced exactly 2.5" out from the engine block. To little and it won't clear the lower intake, too much and excessive cutting of the inner fender will be required to fit the wastegate. This adapter is made from 2 Racing Beat 13B exhaust flanges, spaced 2.5" (outside to outside) with 2" exhaust pipe. Note that reinforcing bars were also added because I was unsure of the ability of the exhaust pipe to support the weight. Later, those bars made tightening the nuts a little frustrating because of lack of clearance. A ratcheting wrench was used since neither a socket wrench or a standard box/open wrench was flexible enough.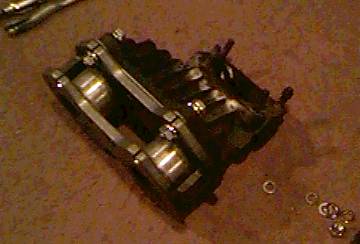 Test fitting the TII manifold to the adapter. There was clearance problems with part of the TII manifold and one of the lower bolts, so the bolt had to be cut and installed backwards to make it fit (head towards turbo adapter, nut towards TII manifold). The TII manifold was not permanently installed at this point since the adapter still had to be bolted to the engine.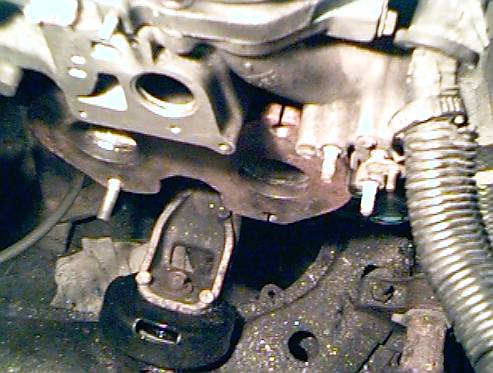 The turbo adapter was then bolted onto the engine. You will note the bolt that I mentioned before hanging from the lower corner of the adapter.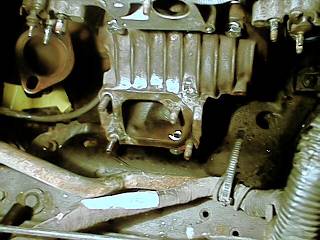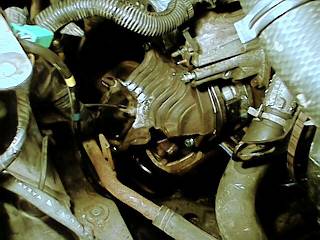 Here you see the TII manifold installed onto the turbo adapter. The bolts were a bit tight to get to, but otherwise it was straightforward. You will note that the twin-scroll flapper has been removed and replaced with a bolt. Since there is no easy way to control it, I decided to just remove the system as it becomes a restriction at high boost levels anyway. Removal of the system may delay boost slightly, but the stronger exhaust pulses from the NA engine will more than make up for it.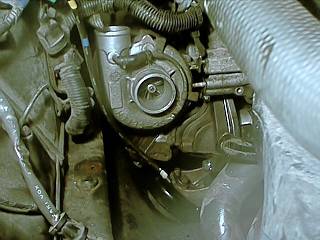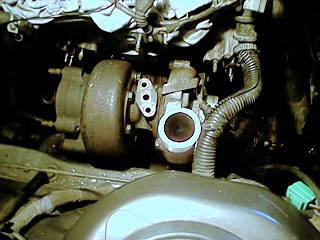 The turbo was then set on the manifold for a test fit. Right away, there was a problem. You will notice that the wastegate actuator is removed in the photos. Unfortunately, it interfered with the inner fender. There were two solutions to this; cut the inner fender or modify the wastegate actuator. More on this later. You will also see that the heater pipe was removed. This was done for clearance.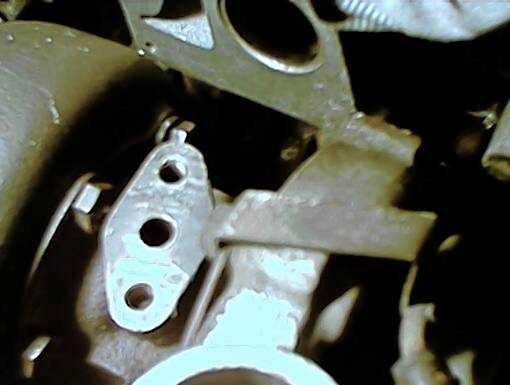 You can see now exactly how close the turbo sits to the lower intake. In fact, if not for the thickness of the gaskets, there would be virtually no clearance between the two parts. But we're still left with some gaping holes in the intake due to the removal of the air control valve (ACV).
Spacer and manifold options are covered in the Improvements, Changes and New Ideas section. Specifically it refers to eliminating the spacer and building a custom manifold.