The (Almost) Complete Guide To Turbocharging The Naturally Aspirated Second Generation RX-7 - ACV Blockoff, Notching The Frame
---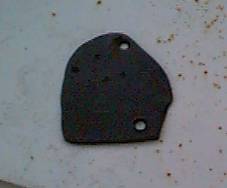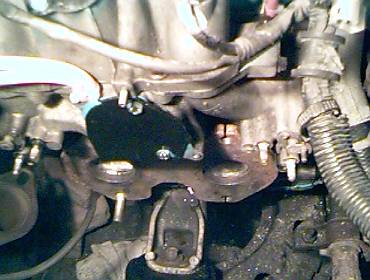 Because commercially made ACV blockoff plates are all too thick (6 MM or so) a custom plate was made out of 3MM steel. The lower right "ear" was cutoff due to interference from the compressor housing of the turbo. And since the lower left bolt hole was too close to the turbine housing, another hole was drilled and taped into the lower intake. You can see this extra hole in the picture of the turbo adapter being installed (scroll up). The plate was installed with liberal amounts of blue silicon gasket goo for sealing. In retrospect, copper coloured goo should have been used due to it's much higher temperature tolerance, but there have been no problems so far even though the very hot turbine housing is only a few millimeters away.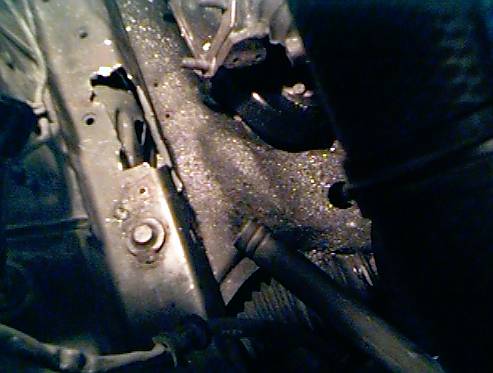 As mentioned before, the wastegate actuator on the turbo interfered with the frame. Various methods of relocating the actuator were considered, but there were none that seemed effective. So, to make room, the frame of the inner fender was notched. It was a rather drastic step, but the other choice was to run an external wastegate, which is not only completely unnecessary on the stock turbo, but would also call for a custom manifold.
This notch can be avoided by making a custom manifold or relocating the wastegate actuator as covered in the Improvements, Changes and New Ideas section.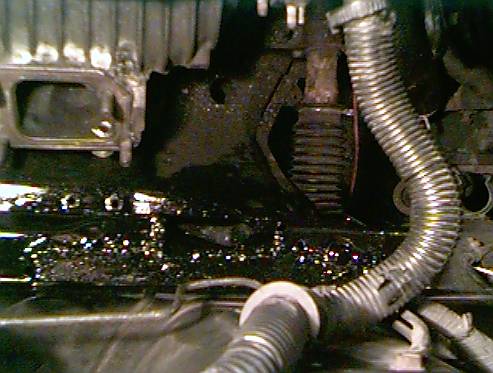 Because the frame was weakened with the cuts, bars of 3MM steel were welded in to reinforce the area. The whole assembly was then painted with black rust-proofing spray paint.
ACV Blockoff, Notching The Frame