National Alternative Fuels Odyssey Day, April 2nd, 2004
---
Several years ago Fanshawe College hosted the London segment of National Alternative Fuels Odyssey Day. The day is designed to raise awareness of alternative fuels with the focus primarily on clean and renewable sources of energy. I was asked to attend and show my 2000 Honda Insight, even though it technically is a gasoline powered car. For the show I also brought out my electric scooter. The Insight ended up having what I have begun to refer to as "The Insight Effect". This Effect states that in any small to medium sized car show, the Insight is always the center of attention. Most of the day was spent showing the car to the visitors, telling entertaining Insight stories and tearing around the crowd on the scooter. The vast majority of people were genuinely interested and several (hundred!) mentioned that they had spotted me driving the car around town in my day to day activities.
As a result of the show, the local news aired a two minute report and the London Free Press printed a small article. This article, pictured below (reproduced without permission), shows a blurry Aaron enthusiastically explaining the Insight to a few local students. Sitting in the car is the organizer of the show and Dean of the Motive Power Technology Division, Rod Cameron.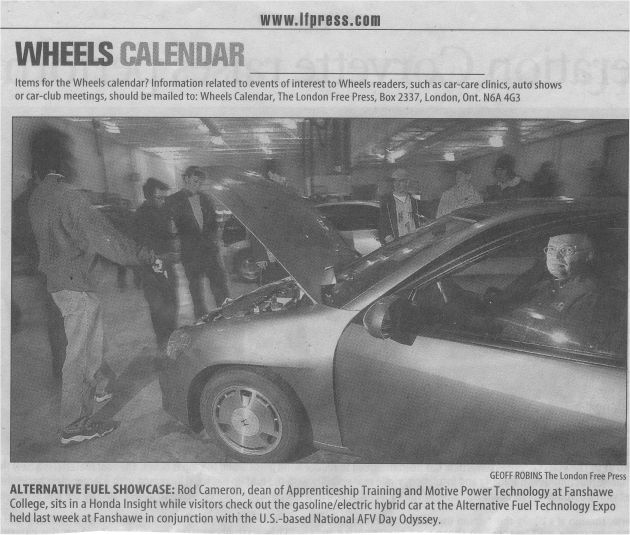 At the same time I also recorded the news report. It aired that night on the 6 o'clock news and then repeated at 10 PM. The quality of the recording is not so great since it spent several years sitting on a VHS tape before it was captured. I only appear in the background as I was not interviewed even though I was the owner of the car. I find this unfortunate since I definitely could have provided more accurate (and entertaining) information.
The video clip is about 2 minutes long, 6.5MB in size and is in MPEG format. You will likely want to download the file for viewing instead of streaming it (Right click and then "Save As" in many browsers).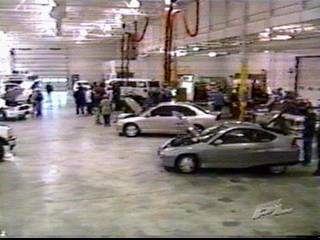 View Video Clip

Back To Media Page | Mail Me | Search