How To Megasquirt Your 2nd Gen RX-7: Modify Stock Wiring
---
Remember that EFI harness you put aside? It also contains the wiring for the wipers, wire for the water temp gauge and depending on your model, also connections to the alternator. That wiring must be separated and reinstalled onto the car to maintain these functions.
Windshield Wiper, Alternator and Water Temp Wiring
Lay out the old EFI harness and give it a good cleaning. Brake cleaner, degreaser, soapy water; use anything to remove the 20+ years of oily buildup and crud. The harness is going to be a lot more pleasant to work with if it's not sopping wet with oil and grease.
Strip off the insulation and wrapping to expose the wires beneath. The EFI wiring is not needed but there are parts of that harness that we need to save. On all cars, the water temp sender wire is the yellow/white wire with a barrel style connector on the end (usually white or black). The wiper wires are primarily blue: blue, blue/yellow, blue/white, blue/red and a single black. They all lead from the large orange interior harness plug to the black plug which connects to the wiper motor.
Here's where things get a little weird. If you have a TII, then you don't have to worry about any more wires in the EFI harness. You can move onto the next paragraph. If you have an NA, then there are two more wires that you need to save; the alternator field and warning light wires. For both S4 and S5 NA, the white/black and black/white wires lead from the orange interior connector to a two prong plug that connected to the rear of the alternator.
Using a thin screwdriver, you can push the little catch holding the pins into the orange connector and then slide the wires out from the rear. Or you can simply cut them off flush with the orange connector. Either way, remove all wires not mentioned above from the connector. Now totally separate the wires you want to save from the ones we don't need and cut through the unwanted wires. Withdraw them from the grommet (don't destroy the grommet because you can re-use it) and discard them.
The following image shows an S4 NA EFI harness stripped down to the wiper, coolant and alternator wires. All the junk on the left is the original emissions/EFI harness and is to be discarded. Good riddance to 20+ years of rotted harness, cracked connectors and broken insulation.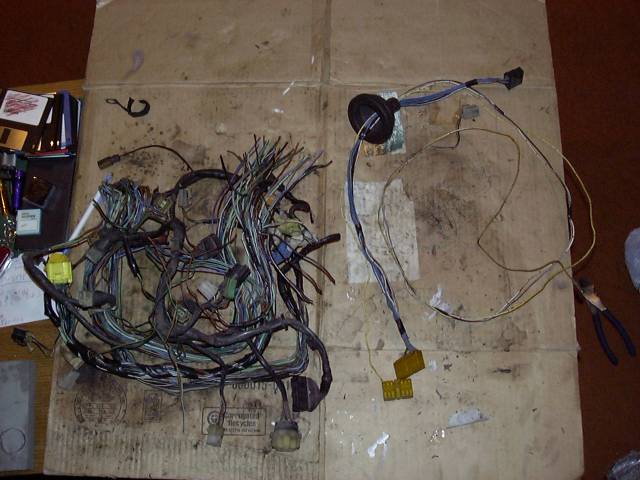 At this point you can take some electrical tape and wrap up the exposed wires. A little split-loom tubing and another layer of tape finishes off the harness for a factory experience.